Surgical Services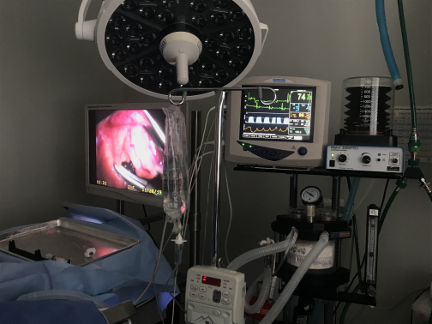 Community Animal Hospital prides itself on offering a wide array of surgical services for your pet's lasting health and wellness.
Procedures offered include:
Spay and Neuter
Dental oral surgery
Entropion correction
Mass removal and surgical biopsy
Advanced Orthopedic Surgery
Endoscopy and Rhinoscopy
Laparoscopic procedures

All of our surgical patients are screened prior to anesthesia and are monitored constantly while anesthetized. Read more about what to expect for your pet's surgery.
Concerned About The Discomfort of Surgery?
We know how you feel. We have pets too.
We at Community Animal Hospital have always made great efforts to lessen the discomfort of pets who are undergoing surgery. Now, with new technology we can do even better.
Community Animal Hospital offers several options that make surgical procedures less traumatic for your pets including surgical laser scalpal and laparoscopic surgical procedures.
CO2 Surgical Laser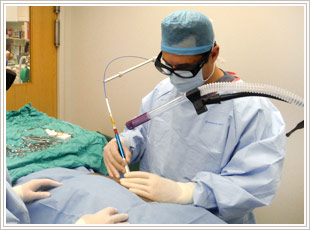 We use an Aesculight Carbon Dioxide Laser, the most up to date technology for surgeries. This same tool is used in human medicine but has been adapted for use on animals.
Laser surgery makes your pets discomfort much more manageable be sealing nerve endings and blood vessels. The surgical laser cuts tissue with a beam of light, eliminating much of the trauma associated with standard techniques.
To find out whether your pet's elective surgery can be done with laser, please ask any of our staff or your pet's doctor.
Laparoscopic Surgery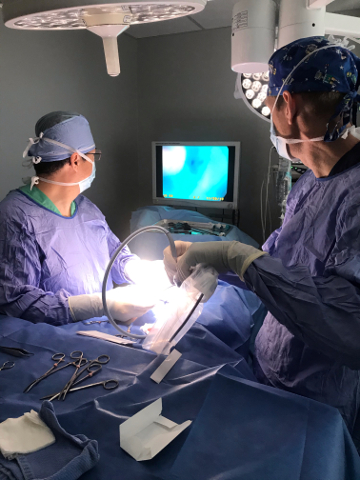 CAH is excited to include laparscopic surgical procedures in our offering of surgical services. Use of laparoscopic tools allow us to significantly reduce pain and recovery time for many surgical procedures.
During laparoscopic surgery, the veterinary surgeon cuts a small incision, the size of a keyhole, through the body wall of a dog or cat. A special miniature laparoscopic camera is inserted into the hole. Real-time photo images from the camera are displayed on a monitor, allowing the veterinarian to view individual organs inside the animal. Surgical procedures can be completed with much smaller incisions, making it safer for your pet, reducing pain in recovery, and reducing the risk of infection.

This procedure is used for such veterinary surgeries as spaying of female dogs and cats, gastropexy (stomach-tacking) in larger dogs to prevent bloat, liver biopsies, and intestinal biopsies. The laparoscope is a useful instrument in many types of exploratory surgeries, as well as a tool for photographing the appearance of certain organs or lesions for further analysis or to document for future comparison.

The real benefit of laparoscopic surgery is greater safety, with less pain, and faster recovery for your pet.