Our Dublin Animal Hospital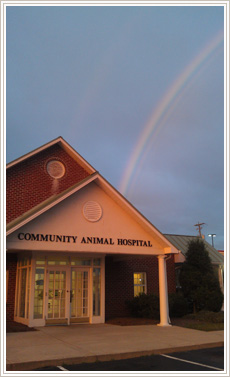 Founded in 1996, Community Animal Hospital is a modern, full-service Dublin animal hospital specializing in the care of companion pets while striving to meet the highest standards of client service. To that end, we are committed to promoting responsible pet ownership, practicing preventative health care and educating our clients to help them be the best possible caretakers of their pets.
We also understand that accidents and illness can happen even to the healthiest of pets. This is why Community Animal Hospital doctors work hard at keeping their medical knowledge as up-to-date as possible, following the latest advancements in veterinary medicine. It is also why we update our equipment on a regular basis and maintain advanced diagnostic imaging tools, in-house medical testing capabilities, a modern surgical suite, and a wide range of veterinary specialty resources.
In all, we are very proud of the reputation we have earned for the quality of our veterinary care as well as for the honesty and integrity of our practice. Please take a look around our website and feel free to give us a call at (540) 674-1010 if you have any questions or would like to schedule an initial appointment.