Grooming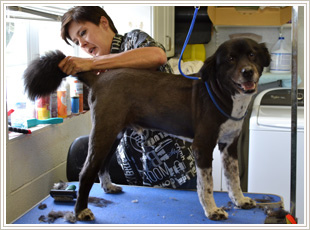 Grooming is important for keeping your pet comfortable and maintaining healthy skin and fur. For this reason, we recommend regular grooming sessions for your pets. Our groomer, Joanne, has 29 years of experience and enjoys working with all breeds of cats and dogs, which includes a hair trim, bath and brush, nail trim, and anal gland expression. We also offer special medicated baths for skin conditions, skunk baths, and a formulated regimen to help remove the undercoat during the shedding process called Shed-Ez.
Shed-EZ is a grooming process designed primarily for double coated breeds to help speed the process of the undercoat shed, or "coat blow". This service combines a series of repeated baths and brushings to loosen and remove the undercoat. This process is a great alternative to a full shave which can cause hair to grow back irregularly and leave your dog unprotected from sun or harsh temperatures.
Since grooming is an important aspect of keeping your pet healthy and comfortable, please give us a call at (540) 674-1010 for more information or to make an appointment.
If you have a grooming appointment:
Please drop off your pet between 7:30am and 8:30am
Grooming appointments are offered every Monday, Wednesday, and Friday
Please be aware, there may be a charge for a no show grooming reservation, due to the high demand. If you need to cancel or reschedule, please call in advance.