World Rabies Day
September 28th is World Rabies Day, an international event established by the Global Alliance for Rabies Control to raise awareness of the deadly virus. And this year in particular is special because it marks 10 years of the holiday. The theme for 2016 is "Rabies: Educate. Vaccinate. Eliminate." With this in mind, it's the perfect time to take a few minutes to educate yourself about rabies prevention and treatment.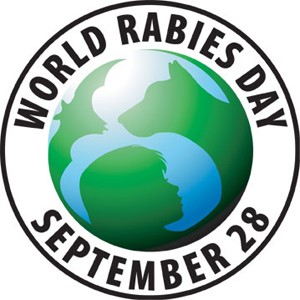 Rabies is caused by a virus that animals and people can get through exposure to the saliva or nervous tissue of a rabid animal, and is nearly always fatal without proper treatment. Rabies kills over 59,000 people per year; nearly 60 percent of those are children under the age of 15 who are unaware of the risks of rabies. In 95 percent of human rabies cases, the cause was a bite or a scratch from an infected dog.
Symptoms
Rabies is not always visible to the naked eye. However, the following symptoms are common in infected animals:
•
Staggering or stumbling
•
Unprovoked aggressive behavior or overly friendly behavior
Prevention
The Global Alliance for Rabies Control recommends that all mammals that are in frequent contact with humans should be vaccinated, but especially dogs, cats and ferrets. Additionally, vaccinations should always be kept up to date to ensure their usefulness.
In order to reduce the risk of exposure to rabies from wildlife, the Alliance recommends that pet owners feed and water their pets indoors, as even empty bowls can attract wildlife. Garbage should be securely covered, as the smell from an open garbage can will attract stray animals. Wild animals should never be kept as pets, and should never be approached, even if they appear friendly.
Treatment
If you're bitten or scratched by an animal that is unknown to you, you may have been exposed to rabies. Wash the wound thoroughly with soap and water and seek medical attention immediately. Once symptoms of rabies appear, survival is very rare.
If your pet is bitten by an unvaccinated animal, consult your veterinarian immediately to see if your pet needs booster shots. You should also keep your pet away from other animals, and watch your pet for signs of illness or unusual behavior for at least 45 days.
More Information
For more information on rabies and to find out about World Rabies Day events, visit the Global Alliance for Rabies Control website at www.rabiesalliance.org.