Dublin Veterinarians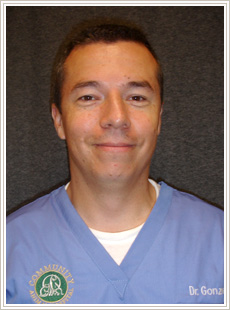 Dr. Luis M. Gonzalez, DVM, MS
Dr. Gonzalez attended the University of La Salle College of Veterinary Medicine. After completing his doctorate, he pursued post-graduate training in surgery and obtained a Master's degree in veterinary surgery at Sao Paulo State University in Jaboticabal Sao Paulo, Brazil. Dr. Gonzalez then moved to the United States and did professional externships in Small Animal Surgery at The University of California in Davis, Alameda East Veterinary Hospital in Denver, Colorado, and Texas A&M University in College Station, Texas. In 2004 Dr. Gonzalez moved to Kansas State University College of Veterinary Medicine, where he did a Small Animal Medicine and Surgery rotating Internship. After completing his Internship he moved to San Antonio to work at South Texas Veterinary Specialists as a surgical assistant.
Dr. Gonzalez moved to Blacksburg in 2007 where he started a two year internship in Small Animal Surgery at the Virginia Maryland Regional College of Veterinary Medicine, participating in several orthopedic and soft tissue surgeries. After completing his surgical internship, Dr. Gonzalez started a radiology internship. He was in charge of the outpatient service, where he further expanded his considerable experience with radiographs, ultrasounds and computer tomography. His Internship research was accepted and published in the Journal of Veterinary Radiology and Ultrasound.
After his internship, Dr. Gonzalez created a company that offers in-house ultrasound and echocardiograms (PetVetUltrasound) for veterinary practices in the New River Valley and surrounding areas.
Dr. Gonzalez is the owner at Community Animal Hospital, where he performs all orthopedic procedures, echocardiograms, and complete abdominal ultrasounds. Dr. Gonzalez's main interest is orthopedic surgery and imaging. He is one of a handful of veterinarians in Virginia that performs Tibial Tuberosity Advancement for the treatment of cranial cruciate ligament deficiency. He is also trained to perform advanced orthopedics such as locking bone plating, external fixator, and other orthopedic procedures.
Dr. Gonzalez's surgical experience:
-Master's degree in Veterinary Surgery
-Surgical assistant at South Texas Veterinary Specialist
-Small Animal Surgery Internship
-Completed the basic and advanced orthopedic courses from the AO foundation and is an active member of the AO VET
-Extensive experience performing orthopedic procedures for surrounding veterinary practices
-More than 10 years of clinical experience – much of which was at a University level
Dr. Gonzalez's Ultrasound and Echocardiogram experience:
-Radiology Internship at the Virginia Maryland College of Veterinary Medicine
-Publications in the area of veterinary radiology
-Participated as an instructor in the Ultrasound Short Course for Practitioners at the Virginia-Maryland College of Veterinary Medicine
-Offers in-house complete abdominal ultrasound and echocardiograms to 18 veterinary practices in the New River Valley area
-Provides in-house ultrasound training on the east coast for a private company. Dr. Gonzalez has taught more than 45 veterinary hospitals on how to perform a complete abdominal ultrasound
-Dr. Gonzalez has teamed with Dr. Jessica Solomon. Dr. Solomon is a board-certified Veterinary Cardiologist and she reads the echocardiograms performed by Dr. Gonzalez.
Dr. Gonzalez enjoys practicing Karate, running, fishing and traveling with his family. He also enjoys learning different languages and he speaks English, Spanish and Portuguese.
---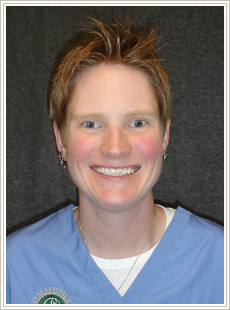 Jonel Nightingale, DVM
Dr. Jonel Nightingale is a General Practitioner who joined the Community Animal Hospital family in August 2012. She has spent the majority of her life (minus a few detours) working with animals in one capacity or another.
She grew up in Western Maryland and started shadowing at a local small animal practice while she was a freshman in high school, which was when her real drive to become a veterinarian developed. She says that she can still remember standing in front of a set of x-rays belonging to her own dog, knowing something was wrong, and wanting nothing more than to understand.
Jonel graduated from Frostburg State University in 2004 with a bachelor degree in psychology and special interest in behavior. She quickly realized that while she found psychology fascinating it wasn't how she wanted to spend the rest of her life. She went back to Frostburg State in 2005 for the classes she needed to apply to veterinary school and was accepted to Virginia-Maryland Regional College of Veterinary Medicine in 2008.
She graduated with a doctorate in veterinary medicine in May of 2012 with multiple honors including: the Dr. Bob Brown award for communication, the Dr. David Bogash award for compassion, the student award for clinical proficiency in anesthesia and the internal medicine certificate of clinical excellence.
After graduation, she moved to Gainesville, Florida where she spent a year as a rotating small animal medicine and surgery intern at the University of Florida veterinary teaching hospital. The training and knowledge that she received while in her internship has been invaluable and she brings an interest in anesthesia and pain management, internal medicine, acupuncture, and rehabilitation with her to general practice.
She shares her home with rescued fur-kids Na'vi and Allons-y (dogs), Galen, Phury, Quill, and Sprite (cats), and wife, Sarah. When she has spare time she enjoys fishing, hiking, kayaking, and grilling if the weather is cooperative. If not, she entertains herself with a good book, action movie, or bad television.
---
Kaitlyn Cook, DVM
We are very pleased to welcome Dr. Cook to the CAH family! She graduated from Lincoln Memorial University College of Veterinary Medicine in 2021. She is originally from Pulaski, Virginia. She has two spoiled hound dogs named Indy and Homer, a horse named Passhahnn, several chickens, tarantulas, and a leopard gecko. In her free time, she enjoys reading thriller novels, collecting houseplants, binge-watching shows with her husband, and spending time with her family.