House Call Services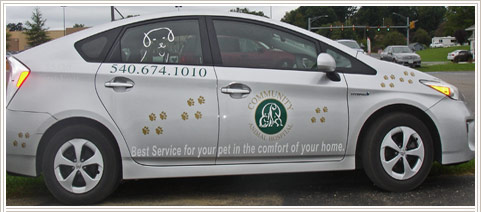 Community Animal Hospital's House call service is a great service through which we can bring your pet's health care to you. House calls make sense for pet owners whose pets become especially stressed out in a clinical setting, at which point the benefits of healthcare are overlooked because of pet and owner stress accumulated. House calls also save time for owners with multiple pets; consider the time it takes to gather pets, load them into your vehicle, drive to the vet, wait for your appointment, and drive back home. Our service makes that so much simpler!
Schedule your house call appointment at your convenience, and our doctor and assistant will come to you. House calls are also great for pets who may be hard to catch and struggle in settings away from the farm, such as barn cats or farm dogs – especially if they require yearly check-ups. Dr. Butler also offers Coggins testing for horses. Coggins testing can be performed either at your barn or at our facility; results are typically available within two days. You can call us at (540) 674-1010 to schedule an appointment for a House Call today!
Our House Call Service reaches out to the following counties in Virginia: Pulaski, Giles, Montgomery, and portions of Wythe & Bland Counties.