Our Staff: Dublin Virginia's Finest
The first thing you'll notice when you walk into our Dublin veterinary office is the incredibly friendly and inviting atmosphere. Members of our staff strive to provide you & your pet the best possible experience during your visit. Learn more about our team below.
Christa Seekatz, Manager
Christa joined the staff at CAH as a Veterinary and Kennel Assistant in 2013 after relocating from Atlanta, GA. She has 8 years previous experience in animal care in both veterinary and shelter settings. In addition to her experience in animal care, Christa holds an MFA in Theatre Scenery Design from Northern Illinois University. "This hospital is really unique in that every staff member is encouraged to offer ideas concerning policy and animal care. I feel like our input is valued whether our ideas are used or not. I also admire the way the doctors bounce thoughts off one another and ask questions of one another. I feel very confident bringing my own pets here for care because, the way the doctors confer, it seems like every patient has four doctors working on their case, even if the owners only see one in the exam room." Christa lives in Christiansburg with her husband Josh and their pets: Static, Ed, and Lua (cats); Mushin and Minnow (dogs); Bigwig and Batgirl (rabbits); and 8-Bit (variable king snake). When not at the clinic, Christa enjoys painting, bird watching, and playing video games with her husband.
Amanda Phillips, Nursing Care Team Lead
Amanda joined the CAH team in 2015 with several years of experience in veterinary care. Outside of work, Amanda enjoys spending time with her husband, Scott and her fur family, Amos and Penelope. Amanda and Scott are recently blessed with a new addition to their family: baby boy Easton!
Kim Phillips, Surgical Assistant
Hunter Quesenberry, Veterinary Assistant
Caitlyn Hale, Veterinary Assistant
Sarah Belshan, Veterinary Assistant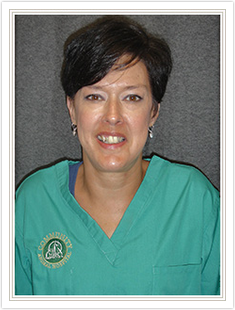 Joanne Radcliff, Groomer
Joanne joined the Community Animal Hospital team in 2014, but has been grooming for 22 years. She enjoys interacting with the clients and keeping their fur babies looking their best! Her four-legged friends include Henry, a Cavalier King Charles and 2 kitties Simba and Nala. When not working, Joanne enjoys spending time with her family.
Elizabeth Sadler, Customer Care Representative
Jessica Reece, Customer Care Representative
Jennifer Boudreaux, Customer Care Representative