Our Staff: Dublin Virginia's Finest
The first thing you'll notice when you walk into our Dublin veterinary office is the incredibly friendly and inviting atmosphere. Members of our staff strive to provide you & your pet the best possible experience during your visit. Learn more about our team below.
Christa Seekatz, Manager
Christa joined the staff at CAH as a Veterinary and Kennel Assistant in 2013 after relocating from Atlanta, GA. She has 8 years previous experience in animal care in both veterinary and shelter settings. In addition to her experience in animal care, Christa holds an MFA in Theatre Scenery Design from Northern Illinois University. "This hospital is really unique in that every staff member is encouraged to offer ideas concerning policy and animal care. I feel like our input is valued whether our ideas are used or not. I also admire the way the doctors bounce thoughts off one another and ask questions of one another. I feel very confident bringing my own pets here for care because, the way the doctors confer, it seems like every patient has four doctors working on their case, even if the owners only see one in the exam room." Christa lives in Christiansburg with her husband Josh and their pets: Baxter, Ed, and Lua (cats); Mushin (dog); Bigwig and Batgirl (rabbits); and 8-Bit (variable king snake). When not at the clinic, Christa enjoys painting, bird watching, and playing video games with her husband.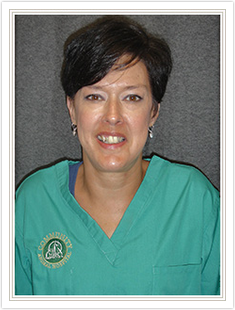 Joanne Radcliff, Groomer
Joanne recently the Community Animal Hospital team in 2014, but has been grooming for 22 years. She enjoys interacting with the clients and keeping their fur babies looking their best! Her four-legged friends include Henry, a Cavalier King Charles and 2 kitties Simba and Nala. When not working, Joanne enjoys spending time with her family.
Tracey Harriman, Customer Care Representative
After moving to Virginia from Connecticut in 2005 with her husband and 2 children, Tracey lived on a small "hobby farm" in Draper with horses, alpacas, chickens, and 3 dogs who loved running the farm. However, many of you may know Tracey from Coffee Buy The Book, a small bookstore and coffee shop that she owned and operated in downtown Pulaski for 6.5 years. After closing the bookstore in 2013 and moving to a smaller home in Barren Springs, Tracey tried some management positions but preferred her job at a local zoo, spending time with all of the cute and cuddly (well most of them) animals again. "Now, I am so proud to say that I work for CAH; with Dr. Gonzalez's expertise in surgery and Dr. Nightingale's leadership and knowledge, to our great staff who every day do all they can to provide the best care for our patients (and their people)."
Donna Harvey, Customer Care Representative
Donna is an NRV native, growing up on a dairy farm in Blacksburg with a house full of pets. She brings several years of veterinary customer care experience with her, and her kindness and desire to help show in every interaction she has. She looks forward to visits from her son who is stationed in Fort Jackson, SC and her 3 grandchildren. In her spare time she enjoys playing with her 5 dogs and 3 cats. In her spare time she loves playing with her "I am so happy to be back working with families and pets again. The veterinarians and staff are incredible and I look forward to being part of the CAH team"
Kim Phillips, Surgical Assistant
Amanda Phillips, Veterinary Assistant
Amanda joined the CAH team in 2015 with several years of experience in veterinary care. Outside of work, Amanda enjoys spending time with her husband, Scott and her fur family, Amos and Penelope. Amanda and Scott are recently blessed with a new addition to their family: baby boy Easton!
Alyssa Riddle, Veterinary Assistant
Dallas Keith, Veterinary Assistant
Alana Davis, Kennel Assistant
Alana joined CAH in 2018 with 2 years previous experience in veterinary care, including surgical assisting for exotics. She attended college in Georgia where she earned a Bachelor's degree in History before returning to her home state of Virginia. She now lives with her husband and their adorable, spoiled Boston Terrier, Baby. "I appreciate that animal care is second to none here at Community."
Elizabeth Sadler, Customer Care Representative
Kayla Kinder, Veterinary Assistant
Kayla has been with Community Animal Hospital since June of 2012, working as a kennel assistant, customer care representative, and veterinary assistant extrordinaire. "What I like best about working at CAH is that all the staff truly love and care about our patients and have their best interest at heart. Working at CAH I get to do a little bit of everything, reception, kennels, and some assisting. It always makes for a fun and interesting day" Outside of work Kayla enjoys time with her family and her adorable dog Kricket.