Happy 2021! New Year, New Pet Resolutions
A new year is upon us. With it comes the opportunity to start anew and set some goals for better, healthier and more productive living. As a pet owner, the new year also marks a fresh opportunity to include your pet's well-being in your plans.
Here are five New Year's resolutions to consider:
1. Resolve to engage in more physical activity and exercise with your pet – It may still be cold outside, but even increasing your daily walk by a few minutes will be beneficial to you and your four-legged friend. Play can also happen indoors. Ward off obesity and behavior issues before they become a problem. Games of fetch, play-wrestling or tug-of-war all are ways to keep your pup active and engaged.
2. Resolve to feed your pet a healthier diet – You may think feeding your pet human food is a way to show your love, but much of it can be fatty and unhealthy for your dog or cat. Just as you may be resolving to watch your own waistline, your canine or feline companion requires a diet that is formulated to provide all of the nutrients he or she requires. Do some research and invest in a high-quality kibble, canned food or raw diet plan – and be careful, as supplementing that with unhealthy human scraps is a leading contributor to weight gain.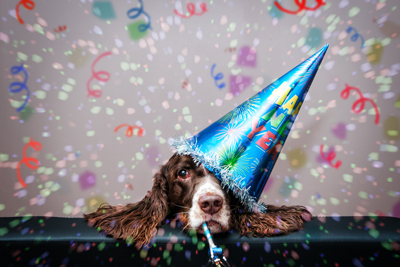 3. Resolve to provide your pet with regular veterinary care – As pets age much faster than humans, a lot can happen with their health over the course of a year. Preventive pet health care is the best thing you can do to ensure your furry friend lives a long, happy and healthy life. Between visits to your veterinarian, take measures to continue care at home. This includes giving regular baths, grooming and brushing his or her teeth.
4. Resolve to curb bad behaviors – Being lovingly mauled by your pooch when you arrive home was cute for a while, but maybe the bruises are getting a little out of hand. This year, step up your training game and make it part of your pet's regular routine. Reward good behavior and stop passively encouraging the bad.
5. Resolve to be the best pet parent you can be – Odds are you probably already pamper your pet quite a bit. In 2020, look for more ways to be an outstanding owner. Maybe this means finally getting around to microchipping your pet, investing in pet health insurance or starting a savings fund, or introducing an adopted pet brother or sister into your home. You can also endeavor to do things that benefit you and your pet, such as getting him or her a stylish new bed that complements your décor or organizing that overflowing toy bin.