Dogs for Diabetics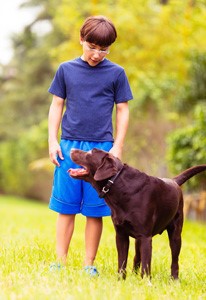 Nothing causes greater worry in a parent than to have his/her child at risk for harm. Parents of diabetics know this anxiety well as the risks of hypoglycemia (low blood sugar levels) can occur at any time and result in deadly consequences. Fortunately, continuous research studies and programs help insulin-dependent diabetics manage their insulin therapy and lower the risks of a hypoglycemic reaction. And surprisingly, the friendliest blood glucose detector on the market? Dogs.
Living with Risk
As many as three million people have Type 1 diabetes (T1D), an autoimmune disease in which a person's body stops producing insulin. The disease does not discriminate; T1D strikes both adults and children with equal vigor. It develops suddenly, causes dependence on insulin injections, and carries with it the constant threat of devastating complications.
Living with T1D is a constant challenge as individuals must carefully balance injected insulin doses with eating, drinking, physical fitness and other activities. Even with careful monitoring, people with T1D still run the risk of dangerous high or low blood-glucose levels, both of which can be life threatening. The disease can be particularly threatening to babies/young children, newly independent young adults or single adults living alone for the simple reason that it is difficult for these individuals to communicate and/or respond to dangerous complications.
Common Scents
It takes more than common sense to know when an acute attack of hypo or hyperglycemia is about to strike. A relatively new growing class of service dogs is emerging to help diabetic patients predict when blood glucose levels are falling suddenly or unexpectedly. Evidence suggests that these trained dogs can react with an accuracy and speed that beats medical devices such as glucose meters and continuous glucose monitors. Studies have shown that dogs may be able to identify the onset of hypoglycemia up to 30 minutes ahead of it being registered by a glucose meter. With their acute sense of smell, dogs (especially retrievers) are able to react to the chemical scent produced by falling blood sugar levels.
Tangible (and Intangible) Benefits
Clearly, a service dog's companionship for a diabetic has real and tangible benefits to the patient. The dog is a constant guarantor that, even in a medical crisis, lifesaving measures will be taken. In this case, man's best friend is truly a very best friend.
However, there are also not-so-readily-viewable advantages to having a service dog available for diabetic patients. When a child has T1D, his mother tends to spend many a night on high alert. Assistance dogs allow parents to rest comfortably while the dog keeps watch. They can also help newly independent college students live away from home without parental oversight. Moreover, an elderly adult living alone with diabetes can also be comforted knowing that her loyal companion is an extra component in her support network. Dogs' capabilities and reliability in recognizing the impending dangers of hypoglycemia offset the ever present worry that sidles up next to diabetic patients who live with this disease. And not only do they comfort the owners but also those who care about the diabetic.
Further Information
If you or someone you love suffers from diabetes and is interested in this type of assistance, please contact your physician or one of our veterinarians. There are several organizations available that provide service dogs for diabetics, including www.dogs4diabetics.com, www.eenp.org/main/diabetic, www.alertservicedogs.com.