10 Tips to Keep Your Pet Warm and Safe This Winter
Winter is coming—and with it, snow, ice and those nasty whirling gusts of freezing air.
Don't be left out in the cold on how to properly care for your pets during the winter months. Just like with the warmer temperatures in summer, cold weather poses potential health and safety risks to animals. With that in mind, here are a few tips to help keep your pets warm and safe this winter:
1. In summer, a car's temperature can climb quickly and be deadly to a pet locked inside. The same goes for a cold car in the winter. Never leave your pet alone in a cold car.
2. Save a warm spot off the floor and away from drafts for your pet to sleep at night, and keep a warm blanket or pillow handy for them to cozy up with. For kittens and older cats, try a heated pad or bed.
3. Dogs who are small, short-haired, young or old, are particularly intolerant of colder weather and should be watched carefully by their owners. When taking pets on a walk, keep them warm with a sweater or a doggy coat, and consider using booties to prevent sand, salt or chemicals from irritating paw pads. Spending long hours in below freezing temperatures is never recommended as pets as just as susceptible to frostbite and hypothermia as people. Consult with your veterinarian if you're unsure of their cold tolerance, and avoid exposing them to long periods of outdoor time.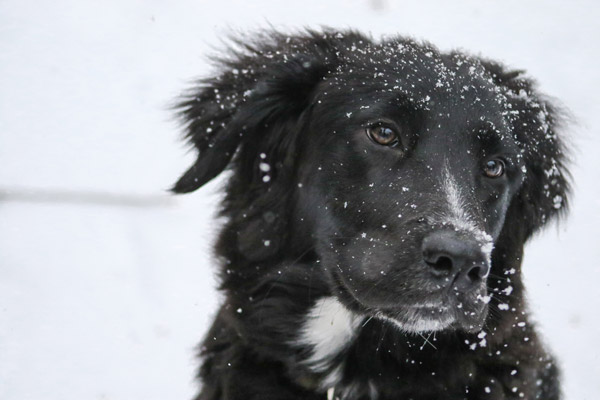 4. Adjust your animal's food intake based on the amount of exercise he or she is getting in the winter. While pets may burn extra energy to try to keep warm during the winter, it's not encouraged to allow animals to gain extra weight because of added health risks. Fresh water should also be provided to help keep your pet hydrated and their skin from becoming too dry.
5. Matted fur won't protect your dog or cat from the cold, so keep their coats well groomed. After taking your dog for a walk, wipe down their feet, legs and stomach area to prevent ingestion of salt or dangerous chemicals. Also check paws for cracks or redness between toes. Using petroleum jelly or another paw protectant is advised if taking your pet for a walk and not using pet booties.
6. Never let dogs off leash on snow or ice.
7. Antifreeze has a sweet taste that attracts animals, but is a deadly poison. Wipe up any antifreeze spills immediately, or better yet, use pet-friendly antifreeze and ice melt products for your own home.
8. Outdoor cats often nap on or around car engines to keep warm in colder months. If there are outdoor cats in your neighborhood, honk the horn before starting your car to make sure any cats hiding next to your tires or under the hood get out safely.
9. If your dog is let out in your yard, make sure snow drifts near your fence haven't made it easy for your dog to escape. While it's not recommended to keep pets outside during the winter (especially in harsh conditions and freezing temperatures), be sure to provide a warm shelter with plenty of bedding and supply pets with fresh, non-frozen water.
10. Like humans, pets are sensitive to the dry air of winter. The change from coming in from the cold and into a heated house can lead to flaky and itchy skin. Consider using a humidifier to help ease the irritation of dry air. Remove snow or ice balls from between your pet's foot pads. Limit baths to prevent the loss of essential oils in your pet's coat and on their skin. If they're in need of a bath, consult with your veterinarian about a moisturizing products to use.